Administrator USOF Mr. Ajay Bhattacharya handing over the
Certificate of Completion to Mr. Rajiv Mehrotra, Chairman & CEO of VNL.
New Delhi, August 10 2011
The Universal Service Obligation Fund (USOF), Department of Telecommunications, Government of India, has awarded certificate of successful completion of project to Vihaan Networks Limited (VNL), an Indian manufacturer of telecommunications infrastructure equipment, establishing benefits of its new technological development of GSM Cellular Rural Telephony Solution to address the challenges of the rural telecom sector. The certificate was presented to VNL by the Administrator USOF Mr. Ajay Bhattacharya, who expressed his happiness on the successful completion of the project.
The USOF has found VNL's WorldGSM™ solution to be: environmentally-friendly and suitable for deployment in Rural and Remote villages; industrial areas with low capacity requirement; and isolated areas which have limited or no grid power and poor infrastructure.
VNL's WorldGSM™ telecom network infrastructure solution for remote locations, villages and small towns provides both voice and data (broadband).
VNL had entered into a MoU with the USOF in September 2009, and has successfully completed the Pilot Project for demonstration of the capabilities of its Rural Mobile GSM Solution in Alwar District of Rajasthan, India, in association with Bharat Sanchar Nigam Ltd. (BSNL).
According to the USOF, the VNL system successfully demonstrated the following salient features:
Low Power consumption system
Outdoor tower /Pole mountable Rural and Village BTS sites operating exclusively on solar energy
Environmental friendliness
Distributed capacity, coverage and connectivity architecture
Integrated Backhaul for Point-to-point and Point-to-Multipoint BTS connectivity
Wi-Fi broadband capabilities
The USO certificate was awarded following a year long deployment of VNL's solar-powered, zero OPEX GSM system developed specifically for remote rural areas where there is little or no electricity and ARPUs are less than $2-3 a month.
VNL's zero opex network solution was used to provide mobile services to around 30 villages in Alwar District, Rajasthan, across an area of 200 square kilometers, not covered by BSNL's existing network. It was tested by a team comprising officers of the Telecom Engineering Centre (TEC), Centre for Development of Telematics (C-DoT) and USOF.
Rajiv Mehrotra, Chairman & CEO of VNL said, "As an Indian company involved in innovation and manufacturing of high tech telecom infrastructure solutions, we are proud to receive this Certificate from USO. VNL is on a mission to connect the unconnected using sustainable models and we are delighted with the results in Rajasthan. We are grateful to the Government of India, USOF and BSNL, for encouraging us to demonstrate the capabilities of our rural GSM and broadband solution".
VNL's pioneering work has been widely praised; In 2010, it was named as a Technology Pioneer by The World Economic Forum (www.weforum.org) and the third most innovative company – and the most innovative telecoms company – in the world in the Wall Street Journal's annual Technology Innovation Awards, 2009.  VNL was selected as a 2009 Top Pick and named as a company to watch in the wireless infrastructure market by Light Reading, a specialist telecoms analyst and publishing house. VNL also won the "best technology foresight" category at the World Communications Awards and came second in the "Green Network Hardware and Infrastructure" category at the CTIA Wireless E-Tech Awards.
VNL equipment is also deployed in networks in South Asia, Africa, Central and South America.
About VNL (www.vnl.in)
For years, operators and GSM equipment vendors have struggled with the same problem: Traditional telecom equipment is not designed for the unique challenges posed by remote rural areas. It costs too much, is too expensive to run, uses too much power and is too difficult to deploy (especially in areas with no electricity, poor roads and a lack of trained engineers).
VNL has spent the last six years re-engineering GSM to overcome these challenges. The result is WorldGSMTM – the world's first truly environmentally sustainable voice and data network.
Highlights:
Zero Opex – made possible by major reductions in power consumption; allowing for the use of solar power as the single energy source. No diesel generators are required.
Low Capex – priced at less than traditional GSM base stations -so that it's profitable even at very low population densities and ARPU levels.
Rural-Optimised and easy to transport – compact and rugged; can even be transported on bullock carts.
Self-Deploying and near-zero maintenance – a village base station can be installed in hours by unskilled persons
Solar Powered – needs only 50 – 150 W per base station compared to the 3000 W required for traditional GSM.
VNL is a member of the Shyam group of companies – India's leading diversified telecommunications group (www.shyam.co.in)
For more information go to www.vnl.in or contact:
VNL's International PR Rep. Bridget Fishleigh Call : +44 7946 342 903
E mail: bridget@nomadcomms.com Skype: bridgetfishleigh
VNL's India PR :Manoj Bhan Call : +91 99 999 66056
E Mail: manoj.bhan@vnl.in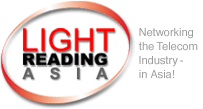 It's a long way from the sexy end of the mobile market, but the supply and management of power for mobile base stations was one of the hottest topics at CommunicAsia last week.
Operators and vendors revealed the different ways they are working to lower the cost of power, which, according to Rajiv Mehotra, chairman of Indian telecom equipment vendor Vihaan Networks Ltd. (VNL), accounts for 32 percent of an operator's operating costs.
Read the Entire Article at the Light Reading Asia Web Site »
DOWNLOAD ↓
(Article, PDF, 96 KB)
The telecoms market in West and Central Africa remains vibrant, but the message from last week's West & Central Africa Com conference, organized in Abuja, Nigeria, by Informa Telecoms & Media, is that business is getting tougher for operators as a consequence of slowing growth rates, increasing competition and falling ARPUs, and the global economic slowdown.
According to Christian de Faria, vice president for West & Central Africa at MTN Group, the slowdown in the subregion "is still not too acute," and the Nigerian market is still growing very fast. But there is nevertheless some evidence of a slowdown: Minutes of use, rather than subscription numbers, are falling, with airtime consumption in some countries down 10-15% year-on-year, according to de Faria. In some cases, it is also more difficult to obtain finance.
Read the complete article on the Telecoms.com Website »
News from CommunicAsia:
Rajiv Mehrotra speaks on advantages of solar-powered GSM base stations for rural networks.
Watch the Complete Interview on the CNBC Web Site »